Lure Coursing for all Breeds?

There was lure coursing for all breeds at the UKC Premier!  For a small fee you could practice and check out this new event.  For an entry fee your dog could qualify for a title.

Lure coursing is not racing.  Your dog is judged not only on how fast they run but also on their endurance, follow, enthusiasm and agility.  The course is much longer than racing but it is a good way to release some energy and enjoy the sight of a dog in full stride.  Beautiful to watch.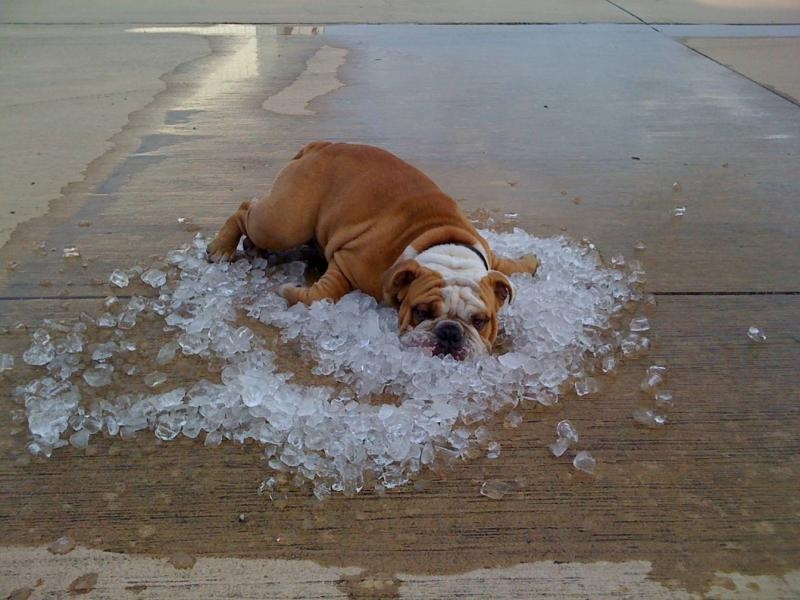 It's Caliente Hot in Phoenix!

Caliente members go to 2010 Premier!

Big news is that AHT Sparkle was 6th overall in the Top Ten Final.  Congratulations to Joe and Linda Dannemiller. 

Ruffy a JRT owned by Connie and Wamo Mathewson got a Best of Breed on Friday and Chrystal Rackley's JRT Ty got a Award of Merit. 

Ok club members, I need help here.  Please email me and we will post your winning Premier

results. 


Don't Forget - Myra Savant-Harris Seminar  

Canine Reproduction and Whelping, And Puppy Intensive Care…

August 14th and 15th 2010 9:00 a.m. to 4:00 p.m. each day

December Newsletter by Amy McPeters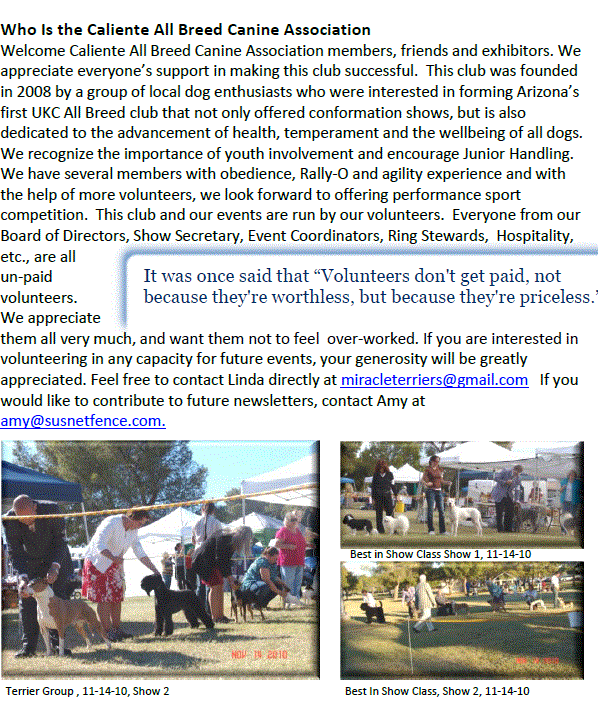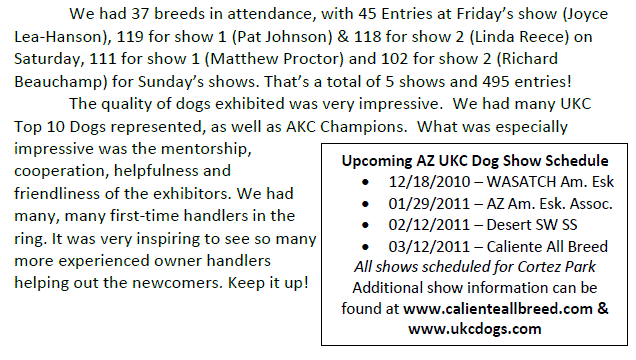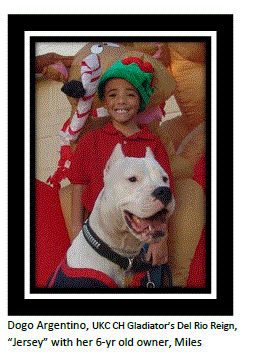 November 12, 13 & 14, 2010 UKC shows at Cortez Park

How to Earn a UKC CH Title

A UKC CH title is earned when the dog has earned 100 points (Three must be with competition). 10 points are awarded to the winner of each class. If there is both at male and female competing, Best of Winners is awarded, an additional 10 points. Best of Sex is awarded an additional 15 points. A maximum of 35 points per show can be earned. If your dog is the only one representing his breed, therefore no breed competition, a CH title can still be earned off of Group competition wins.

UKC also has a Grand Champion shown with UKC. To make it to the Grand Champion, the dog must have competed at a show where there were at least 3 members of his breed in the Champion class he was competing against.

UKC also has a Top 10 point system list which lists the Top 10 dogs of each breed who has shown with UKC. To make it to the Top 10 you must get Best of Breed.  You get a point for every dog in your breed that you beat.  You need 5 BOB wins. It is possible to make it to this list without earning a CH title. Example: If there are 5 Rat Terriers being exhibited, the BOB winner will receive four Top 10 points, one for each dog he beat.

More information can be found at www.ukcdogs.com .

Current events and News on FaceBook at: